Click here to order.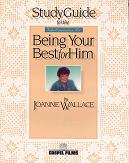 Being Your Best for Him
A 5-program video series in 3 video cassettes, plus a valuable workbook.

Now a dynamic Video Curriculum for a small group or for your personal use. This valuable resource shows viewers how to cultivate assurance in crucial areas of life. This comprehensive, creative, and compassionate program will enable viewers to improve in every area, becoming the representative God created us to be.

Video Session 1: Who Am I, Lord?
Video Session 2: How to be an Image Bearer
Video Session 3: Let's Communicate
Video Session 4: Forgiveness-Putting the Past to Rest
Video Session 5: How to Look like an Image Bearer (Wardrobe teaching and demonstration!)
by Joanne Wallace
Video: $39.99, $6.00 each shipping.